Why Conocarpus (otherwise known as the damas tree) deserve a second chance
Over the last decade or so, Conocarpus has received much bad press throughout the Arabian Gulf. Both species are involved, these being C. lancifolius, native to coastal areas of south western Arabia and the horn of Africa, commonly known as the damas tree, and C. erectus, native of Florida, known as the buttonwood mangrove. The claims are that their roots invade domestic drainage systems and disrupt underground utilities and foundations. However, in defence of the tree, I offer the following plea:
Conocarpus lancifolius
Public Park – an ideal location allowing the tree to grow naturally
appeal
The Conocarpus tree's particular appeal to householders is its high salt tolerance of up to 25,000ppm, its evergreen nature and rapid growth which, in its early stages, ranges between 2 and 3 metres per year, thereby offering a quick solution to providing shade and privacy. Though these characteristics may be welcomed, the appearance of feeder roots in a toilet bowl is certainly most unwelcome. This would not occur if joints in underground drainage systems and water pipes were properly sealed at the time of installation.
remedial action
When a toilet drainage system is invaded by roots, which could be of any tree, not only Conocarpus, a remedy is to empty less than half a cup of copper sulphate or rock salt into the toilet bowl, which over a few days or weeks will dissolve the offending roots, fortunately without killing the tree, the resulting debris being flushed out of the system. Thereafter copper sulphate crystals can be applied at three month intervals.
Copper sulphate crystals
root barriers
Regarding avoiding disruption of municipal services, the answer is root barriers – a particular project coming to mind, for though Conocarpus was not included in the planting scheme, the possibility of tree root disturbance in respect of utilities was a major consideration, the drawing below showing how the matter was resolved.
Section drawing of root barriers in the form geo-textile fabric.
Foundations
Where foundations are concerned, root barriers again provide an answer, in this case pertaining to a boundary wall, alongside which a hedge of Conocarpus was to be planted. The task involved excavating a trench 1m deep and introducing at the side of the exposed foundations a root barrier, this being mirrored along the edge of a patio on the opposite side of the trench as a "belt and braces" precaution against roots extending to the villa. Thus both the foundations of the boundary wall and the villa were protected.
Installation of a root barrier along the foundation of the boundary wall
Installation of a root barrier along the edge of the patio
pruning
Another answer to restricting root expansion is pruning, for root growth is equal to the extent of the tree's canopy, not only to sustain the tree with moisture and nutrients, but to maintain its stability – hence less canopy means less root growth. This applies to the Conocarpus hedge shown below, which is clipped regularly.
Conocarpus hedge
topiary
All trees benefit from judicious pruning, and Conocarpus lends itself to a particular type called topiary, which is the art of clipping amenable evergreen shrubs and trees into ornamental shapes.
Topiary comes to mind when considering Concarpus eectus in road medians where their growth can be somewhat ungainly, as in the image below left. Such examples would benefit by being pruned into columnar shapes akin to the Italian cypress (Cupressus sempervirens), thereby providing the median with a distinctive, elegant character.
Ungainly Conocarpus Other topiary shapes easily achieved with both species of Conocarpus include spheres, cubes, domes, pyramids and oblongs, in fact any simple geometric shape, as well as animal forms.
Further instances of topiary are shown below, all of which can be achieved with Conocarpus
Different Forms of Topiary
Incorporating such shapes into roadway medians and verges, roads would become informally known as the Avenue of the Elephant, the Avenue of the Peacock; the Avenue of the Falcon and so on … echoing a characteristic of Islamic Spain where places were given unique and beautiful names. Pruned in this manner Conocarpus would not develop an extensive root system, posing no danger to pavements or underground utilities.
Readers may be interested to know that Conocarpus also lends itself to the exquisite art of bonsai.
The above specimen reveals the amenability of Conocarpus to pruning. It's quite remarkable that a tree capable of reaching a height of 30m can be pruned to a height of less than half a metre. The tree in the image is 150 years old and was presented by the UAE to the CIA in recognition of the UAE's strong and historic partnership with the USA.
The Bosai tree and by extension the Conocarpus tree has long been honoured by the ancient practice of Feng Shui for its ability to draw upon the life energies of heaven and share their joy and comfort with all in its presence. This characteristic may be said of all trees, for in ancient times forests were places of worship, later being symbolically represented in cathedrals and mosques and other places of worship by columns, their arches denoting the forest canopy drawing down the life energies of heaven and nourishing the earth and her inhabitants.
Conocarpus erectus as a Bonsai UAE gift to the CIA Columns and arches found in mosques and cathedrals symbolising trees
Other uses of Conocarpus include shelter belts, shoreline protection, desert reclamation, reforestation projects, also as buffer zones, and according to research undertaken by the Arabian Gulf University in connection with Bahrain Oil Refinery, the tree is very useful in remediating oilcontaminated soils and abstracting pollution from the atmosphere, hence its value to the environment is enormous.
The negative comments about Conocarpus make painful reading, much of which I know from personal experience to be untrue since first encountering the tree in a public park in Sharjah in 1985. The sight of an Emirati family enjoying a picnic in the shade offered by its branches was a delight to behold. Responding to its perceived negative aspects, the answer is to be aware of its growth characteristics and to plant or avoid planting it accordingly.
However, notwithstanding the negativity suffered by Conocarpus, we must remember that it is a member of the great family of trees with which Nature in her great benevolence has blessed us.
John Davies Image credits: John A. Davies, Landscape Consultants /Wikipedia/ Washington Post.
inDoor &outDoor LivinG
This hybrid space offers the best of the UAE's climate year round
Architect & General Manager Maincrete Building Contracting
A global shift in attitudes post pandemic has altered living habits towards utilizing outdoor space. Instead of being isolated from nature by walls and ceilings, today more and more people tend to extend their living zones out into the open air, reconnecting them with nature and letting nature merge with their daily living habits.See below a family home in the Meadows in Dubai, the couple decided to take the plunge and reintroduce nature into their home with a stunning garden transformation complete with four functional zones.
case study
A family with two young kids wanted to create a stylish outdoor living area with a barbeque, sitting lounge, playground for kids and annex room for work. They didn't know exactly what they wanted, which materials to use and this is very normal practice when it comes to design and build. The mentioned requirements were only: minimalistic and urban style, functionality, coziness, and a connection to nature.
The proposed 3D design matched the clients' dream perfectly. Without any hesitation, the contract was signed and the work started.
The project scope included 1. Entrance zone, 2. Annex rom, 3.BBQ and dining area, 4. Outdoor lounge with a fireplace.
entrance area
First contact with a house gives exactly that first impression like when meeting someone for the first time. For the clients that are very sociable and often organize dinners at their home, friendly and welcoming Entrance Area was composed with warm wood panel wall, bench with concrete elements and lust of greeneries including lemon and olive trees, bushes, aloe and cactuses. In the evening the area is beautifully lightened with ground and wall lights.
annex room
Since the lockdown the client's working space has been relocated from office to home. So the task was to create private comfy space for business activities and relaxing retreat. Design criteria was based on fully integrated connections inside-out between annex room, garden and a house. This was achieved by lifting the garden level up to house and annex room levels (with consideration for rain water) that gives infinity effect of living space towards outside and adding extended visual space to indoor area of 28 square meter.
Exterior finishing is combined with warm wood panels, polished concrete, sliding door and black matt lamps.
Interior of annex room is designed in urban style using bricks and rough concrete finish, bulky cooper exposed AC ducts, glass partitions and matt black accessories for washroom and shower cabinet. The room of 28 square meters accommodates comfy sofa, coffee tables, huge tv with sound system and a play station to relax between work. In addition, this room can serve the purpose of guest room when needed.
bbQ and dining area. Inspired by Japanese philosophy of wabi-sabi the designer achieved the look that appreciate half-forgotten beauty in weathered objects and raw materials exposed around us. Space made in accordance with this concert translate the truly sense of peace and tranquility through simplicity. Cementations finish on barbeque counter and concrete floor allow to minimize sharp edges that doesn't exist in nature. Chopped logs under a cooker decorates the space with its natural color and texture.
Custom made dining table made of rustic metal and dark grey parceling stone make this unit timeless. Bolt, uncovered joining parts of the outdoor table repeats the concept of nature and attract an eye with its details. Dining area can accommodate ten people at the table surrounded by cheerfully selected rustic pots with olive trees. The whole atmosphere blends the smoothness and roughness of natural colors and materials creating mixed feelings of sweet and sour taste of imperfect perfection.
Among kitchen appliances there is 90 cm cooker for barbeque, fire oven for pizza, custom made sink matching the dining table, a fringe and ice maker.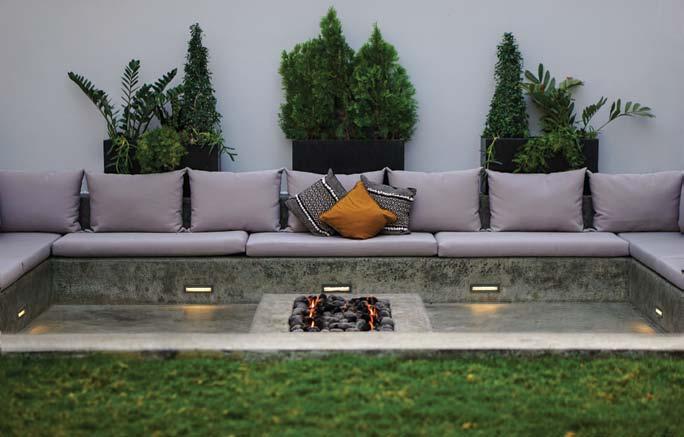 Lounge with fireplace.
Medically proven fact says that time spend in open air reduce the level of cortisol (hormone of stress) lower blood pressure, recharge energy and increase positive vibes. Guided by the idea of contributing into people's wellbeing, the lounge (alternative living room) is designed 60 centimeters below the garden level. That gives feeling of merging into 'green ocean'. Lowden position of sitting lounge also maximize visibility of greeneries on eye level along with eco purified air supply. Composition of warm wood and rough concrete is gently smoothen by soft and comfy grey mats and cousins on concrete basement together with the amount of greenery and birdsong. The focal point of the lounge is a rectangular shape gas fireplace located in the middle of the room and merging into 3 steps. Gas fire is easy in use and exclude smoke at the place.
There could not be a better decoration then element of fire dancing with the wind on the stone dance floor!
By evening the sitting lounge is lightened by low light around and can accommodate 25-30 person at time. The place already became a favorite location for colleagues meeting, friends gathering and celebrations.
what the client says:
"This is the best decision we made during the pandemic. There are 3 great contributions; the first – quality of life. We are enjoying living in open space every day, starting from morning meditation, playing with kids then baking delicious pizza, inviting friends for barbeque and interesting conversations around the fire… that is what we were dreaming about. The second – working from home. It is amazing to work in a private office and be with a family at the same time. Also there is no waste of time on traffic which automatically reduce air pollution. And the third – property value. Everyone who comes here says this is a unique and outstanding space. Yes, all the work we did is for us to use and enjoy and also this is an investment that will pay back in the future in case of selling the villa but honesty we will not sell for the next 10 years for sure"
Photo credit: Oksana Zakhariya Written by: Marketing Manager Oksana Zakhariya Instagram@ozgraph Instagram@maincrete www.maincrete.com